TEXTILE FIBER MARKET
Home > Textile fiber market
Currently, polyacrylonitrile is inserted into the textile industry in the form of "acrylic" fibers.
In 2015 alone, world consumption of acrylic fibers was estimated at up to 1.9 million tons.
The region where the largest production of acrylic fibers is concentrated is China accounting for approximately 40% of world production and then Africa and the Middle East with 20%.
Its consumption reached a level of 2.8 million tons per year 2004, but due to competition with polyester fiber there was a reduction of consumption, reaching today approximately 1.9 million tons per year. Its consumption should remain relatively stable for the next 10 years, as there are few fibers with similar properties and less cost to replace the PAN in its current applications.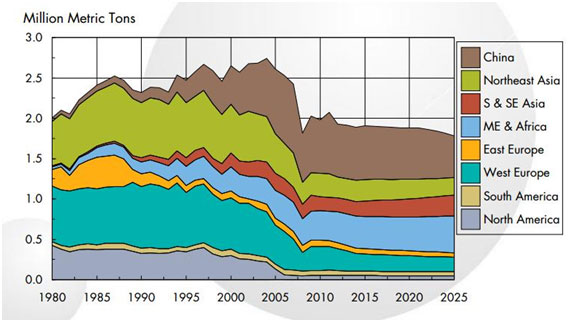 Production and estimation of the acrylic fiber market in the world
The largest producing company in the world is AKSA (Turkey), which has a production capacity of 380,000 T / A, followed by Jilin Qifeng Chemical (China) and Dralon (Germany).
In Brazil, there were two factories in the past, Companhia Sudamerica de Fibras (SDF) located at the Camaçari Petrochemical Complex (BA) and Radicifibras in São José dos Campos (SP), which closed its activities in 2013.
Currently the only acrylic fiber producer in South America is the South American Fiber Company (SDF) located in Callao, Peru, with a production capacity of 38,000 T / A by dry spun spinning.