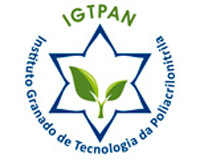 GRANADO POLYACRYLONITRILE TECHNOLOGY INSTITUTE (IGTPAN)
A) Conduct research on Polyacrylonitrile polymer (PAN) and benefit society with the results obtained.
B) Implement, in partnerships with companies and other institutions, projects aimed at integrating PAN technology into the market, introducing new products and manufacturing processes that are more environmentally friendly than those existing and taking advantage of raw materials from renewable resources.
C) Share our research and development infrastructure with other researchers on related issues.
D) Support with scholarships, master´s and PhD students working on the subject, including monomer synthesis, synthesis or purification of raw materials involved in their processing, polymerization, polymer modification, blending with others Polymers, plasticization, characterization, application development, PAN-based carbon fiber and recycling.
E) To finance fully or partially projects with the PAN in schools, universities, research institutions and business incubators.